The Orbus graphics department produces over 26,000sq. ft. of graphics per hour thanks to a full-service customer satisfaction team, talented art staff, and around the clock production crew. Our 18 state-of-the-art printers are equipped for speed and quality to meet the most demanding deadlines. Printing on more than 23 materials, we can produce a range of graphics to meet almost any need.

Artwork
The art department requires 24-48 hours to pre-flight and proof once the order has been submitted. Electronic proofs are sent for all graphic jobs. Hard copy proofs are sent upon request with an additional charge.

Download Artwork Guidelines
Download Graphic Print-Capabilities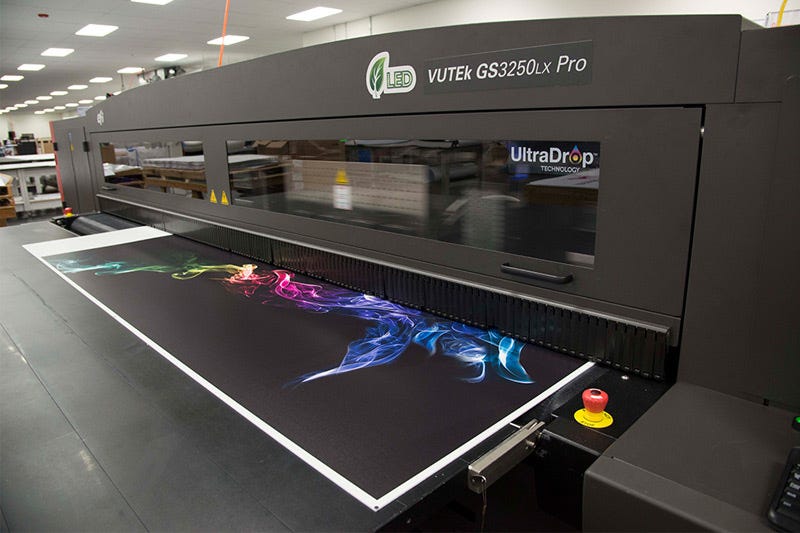 Print Capabilities
UV Printing: With 7 state-of-the-art UV roll-to-roll and flatbed printers, we have the capacity to print over 7,000sq. ft per hour. Our UV printers provide vibrant graphics with excellent longevity on a variety of rigid and flexible substrates.

Dye-Sublimation Printing: With 8 cutting-edge fabric printers, we have the ability to print a remarkable 19,000sq. ft per hour. Our high-speed process produces vibrant, six-color output over 3 meters wide.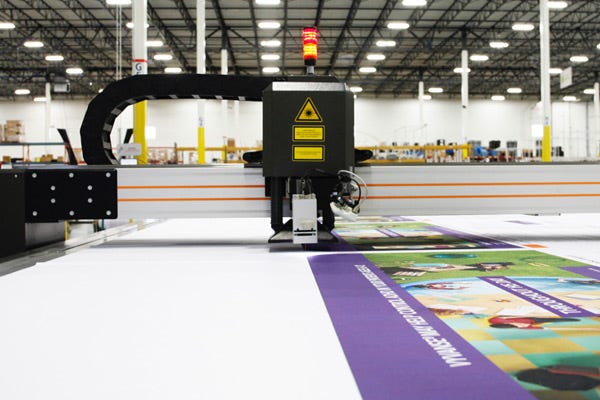 Finishing Capabilities
Digital Cutting: Utilizing 4 digital cutting and laser machines, we create fast and efficient workflows for finishing graphics on fabrics, vinyl, PVC's, and rigid graphics.

Dye-Sublimation Finishing: Our highly skilled sewing staff finishes each dye-sublimated fabric graphic by hand to ensure the perfect fit to the display frame.
Print Materials
Our print materials include, but are not limited to: Soft Knit, Display Poly, Power Stretch, Outdoor Flag, Resilence, Flatmaxx Vinyl, Outdoor Scrim, Outdoor Canvas, Melinex, Opaque PVC

G7 Certified
The graphics we provide are G7 certified which helps ensure the production of the highest quality, consistent and accurate color graphics.